Nina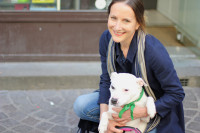 Location: Paris,
School: Yale
Request Editing
Send Message
Fee Structure
Word Count
1 Day
2+ Days
1 - 250
$199
$149
251 - 900
$399
$349
901 - 1200
$499
$399
1201 - 1500
$549
$499
1501 - 2000
$649
$599
2001 - 3000
$749
$699
3001 - 4000
-
$849
4001 - 5000
-
$1199
5001 - 6000
-
$1399
6001 - 7000
-
$1699
7001 - 8000
-
$1999
Consultation
$299/hr
About Me
Born in New York City, raised in Boston and currently based in Paris, over the last 16 years Nina has edited thousands of essays, helping clients gain admission to top programs in the US and abroad - and she brings a diverse range of expertise to every project she takes on.
After graduating from Phillips Academy (Andover) a year early, she deferred her early-action admission to Yale to accept an English Speaking Union Scholarship, enjoying a year abroad at Clifton College in Bristol, England. At Yale, she majored in English and performed with the comedy improv troupe Just Add Water, writing her dissertation on images of female sexuality and antifeminism in King Lear. Before returning to graduate school, she joined the boutique headhunting firm, The Higdon Group in New York City, whose clients included the The Carlyle Group, Goldman Sachs, Merrill Lynch and Kodak. Promoted to Director of Research within her first year, she found recruiting exhilarating for the interpersonal connections and deep satisfaction in helping others.
Crossing the Atlantic once again, she earned her Master's in Creative Writing and PhD in Theatre Studies at Royal Holloway, University of London, where she also served as a Visiting Lecturer and received both the Royal Holloway International Excellence Award and a Crossland Research Fellowship. Her PhD looked at narrative as performance in Modernist women's literature, and during this period her plays were staged throughout London and Scotland. She also published a novel in addition to various short stories, essays and reviews.
Now living Paris where she continues to write, she treasures the opportunity to help others come closer to realizing their dreams; 2020 success stories include offers at Harvard, Yale, Stanford, Columbia, Cambridge, INSEAD and other top MBA, Medical School, Law School and graduate & undergraduate programs. A master storyteller, she is passionate about helping others find their voice, to become better writers. In addition to consulting and editing, she mentors young women and serves on the Reader's Panel for the Royal National Theatre in London, the First Pages International Literary Award, and the Verity Bargate Playwriting Award.
Education:
Yale University
-BA in English
University of London, Royal Holloway
-MA's in Creative Writing & Playwriting
-PhD in Drama & Theatre Studies
Expertise
Medical School
Business School
Law School
Graduate Programs
Undergraduate Programs
Reviews

Nina is the BEST!!!
I REALLY appreciated for Nina's help!!!! Nina not only replied my questions very fast, but also tried very hard to make my deadline. This experience was way beyond my expectation! What made me very touched was, while I was frustrated about the essay, Nina did profession edits and also encouraged me a lot. She increased my confidence, which was important during the apply process. So,if you are looking for someone to understand your story and make perfect edits. CHOOSE NINA!!!!She is the BEST! -Flora
- Flora
---

Attn: Look no further! She's the BEST!
Initially, I was hesitant to use an editing service, as I was unsure how well an editor who did not know me would be able to personalize my essay. Nina went above and beyond all of my expectations! She truly captured my thoughts and enhanced my voice through my essay. I was astounded with her level of attention to detail and the ability to polish my essay without changing my story. She is professional, introspective, passionate, easy to reach, and overall exceptional at her job! I am so glad that I found her, and I highly recommend that you let her help you as well. Seriously, look no further.
- Mira
---

BEST, Highly recommend!!
I am so glad I chose her. She did an amazing job and worked really hard like it was her own application essay. She is very passionate about writing and you can totally see it in the result: she made my story unique and special. I learnt a lot through the process and I feel way more confident now thanks to her. Thank you for your help and support Nina, you are the best!
- Maria
---

Passionate writer and artist, master storyteller!
Nina is an absolute gem! I cannot recommend her highly enough. She helped me with my business school essays, and she put so much thought and energy into understanding my "true personality" behind the writing, and in helping me bring it out as authentically and vividly as possible. I think very few editors take this approach and put that much effort into understanding your story (vs. just editing your language). She's a writer and an artist, passionate about what she does, and it really shows. I used to send her my essays, with zillion questions and comments around the story-line, and she used to take her time to answer each of them. She would send me a written critique to explain any changes and address my concerns, and she even offered to have a call to explain her comments more in detail and hear mine – all throughout the holiday season. I really felt that I had a great support system just by working with her, she's very encouraging and truly wants the best for her clients - and she brings out the best in them. Thank you Nina :)!!! Angela
- Angela