Sam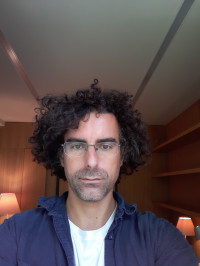 Location: Paris,
School: Oxford
Request Editing
Send Message
Fee Structure
Word Count
1 Day
2+ Days
1 - 250
$199
$149
251 - 900
$399
$349
901 - 1200
$499
$399
1201 - 1500
$549
$499
1501 - 2000
$649
$599
2001 - 3000
$749
$699
3001 - 4000
-
$849
4001 - 5000
-
$1199
5001 - 6000
-
$1399
6001 - 7000
-
$1699
7001 - 8000
-
$1999
Consultation
$299/hr
About Me
Sam is a writer, editor and university lecturer who has taught writing for almost two decades in the US and Europe. After graduating from Oxford University with a First Class Degree in Philosophy and Modern Languages, he spent a brief period working in magazine journalism then earned an MFA in creative writing from UC Irvine. He taught writing and literature to undergraduates at UC Irvine for close to a decade. Since leaving California he has taught at NYU, Bard and RISD, where he was on the Literary Arts faculty for 4 years and was a graduate writing advisor. Over the years he has edited thousands of essays, stories, articles, books and personal statements, and has developed a fine ear for eliciting what is unique and compelling in each writer's voice and their perspective on the world.
Sam brings a rich diversity of professional experience and intellectual interests to his editorial practice. As a writer of fiction and creative non-fiction, Sam has earned fellowships from the Fine Arts Work Centre, the Lower Manhattan Cultural Council, the MacDowell Colony, and the Dora Maar House. He has mentored successful business professionals, doctors, architects, fashion designers and computer engineers. As an editor with a philosophical background he is particularly skilled at honing the central ideas that drive a piece of writing. He taught incarcerated women through the Bard Prison Initiative and continues to mentor refugees and torture survivors at Freedom from Torture in London. An avid runner and squash player, currently he lives with his partner and daughter in Paris, where he writes, leads writing workshops and works as a freelance editor.
Education:
Oxford University
-MA in Philosophy and Modern Languages
University of California, Irvine
-MFA in Creative Writing (Fiction)
Expertise
Medical School
Business School
Law School
Graduate Programs
Undergraduate Programs
Academic Essays
Reviews

Brilliant edits
Sam is a brilliant editor. He has kindly helped with several of my MBA application essays and surprised me (positively) with every of his awesome edits. Sam's edit made my essays flow better and more fitting to each school's requirement. The communication with Sam has been a breeze as well, he always answers my request/questions promptly despite the time difference. I will def recommend Sam to my friends who have editing needs. Thanks again, Sam!
- Kate
---

excellent writer !!
I really like sam's writing style. He turned my boring essay into an interesting story with great language and structure. Besides, sam is very good at communication. He explained to me the detailed reasons about his adjustments on my essay and gave me very constructive feedback about my content! I would come back later if I need another editing ! It really worth it !!
- Bonnie