Sam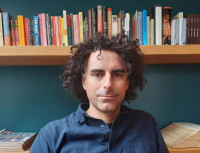 Location: London,
School: Oxford
Request Editing
Send Message
Fee Structure
Word Count
1 Day
2+ Days
1 - 250
$199
$149
251 - 900
$495
$395
901 - 1200
$545
$435
1201 - 1500
$599
$495
1501 - 2000
$799
$655
2001 - 3000
$999
$799
3001 - 4000
$1199
$999
4001 - 5000
$1399
$1199
5001 - 6000
$1599
$1499
6001 - 7000
$1799
$1599
7001 - 8000
$1999
$2199
Consultation
$199/hr
About Me
Sam is a writer, editor and university lecturer who has taught writing for almost two decades in the US and Europe. After graduating from Oxford University with a First Class Degree in Philosophy and Modern Languages, he spent a brief period working in magazine journalism then earned an MFA in creative writing from UC Irvine. He taught writing and literature to undergraduates at UC Irvine for close to a decade. Since leaving California he has taught at NYU, Bard and RISD, where he was on the Literary Arts faculty for 4 years and was a graduate writing advisor. Over the years he has edited thousands of essays, stories, articles, books and personal statements, and has developed a fine ear for eliciting what is unique and compelling in each writer's voice and their perspective on the world.
Sam brings a rich diversity of professional experience and intellectual interests to his editorial practice. As a writer of fiction and creative non-fiction, Sam has earned fellowships from the Fine Arts Work Centre, the Lower Manhattan Cultural Council, the MacDowell Colony, and the Dora Maar House. He has mentored successful business professionals, doctors, architects, fashion designers and computer engineers. As an editor with a philosophical background he is particularly skilled at honing the central ideas that drive a piece of writing. He taught incarcerated women through the Bard Prison Initiative and continues to mentor refugees and torture survivors at Freedom from Torture in London. An avid runner and squash player, currently he lives with his partner and daughter in Paris, where he writes, leads writing workshops and works as a freelance editor.
Education:
Oxford University
-MA in Philosophy and Modern Languages
University of California, Irvine
-MFA in Creative Writing (Fiction)
Expertise
Medical School
Business School
Law School
Graduate Programs
Undergraduate Programs
Academic Essays
Reviews

Highly Recommend (10/10)
Sam came highly recommended to me by a friend who had previously used his editing services. He significantly improved my grad school application essays and brought them to life! I can honestly say that it was the best investment that I have made, and I'm grateful that he was able to take the time to work with me. Sam was extremely responsive throughout the process, helping me structure my story, provide edits, and sharpen the drafting to engage the reader. We went through four edits of the essays and each time his edits and feedback were on-point and extremely valuable. It was a pleasure working with Sam, and I would highly recommend him to anyone!
- William
---

MBA essay
Sam helped me with the essay of my favorite program. He helped me make it more structured and interesting to read. So, I came back to him for another essay. Although the questions were similar, Sam read my essay carefully, found the difference in my response, and helped me revise the essay accordingly. I really appreciate him for being both professional and responsible. My last essay was so tricky that it required me to show my personality and tell my stories in short sentences, meanwhile, to make them interesting. My version included too many details, even wordy. But Sam helped me make it super concise, and more importantly, vivid!!! His editing is straight-forward, and he also included comment and remark in his edited version which was super thoughtful. He never changed my story, so I am comfortable the story is still what I want to tell the AO and about the real me! Besides, he is very responsive and flexible. He worked on my essay during the New Year holiday. I could not be more appreciative for his help. In short, I highly recommend Sam to other applicants.
- Tina
---

MBA essays
It's really a pleasure working with Sam. He fixed the wording in my essays and bringed them to life. He's also been very communicative and supportive. Thank you!
- Tina
---

Outstanding review!!
If you want to play it safe, contact Sam. He's tremendously knowledgeable and capable of understanding in a flash the twists and edits needed to make an essay shine. Sam always preserves the heart of the message, dressing it up in an elegant and appropriate stylistic dress. Every suggestion was extremely spot-on. On top of that, his professionalism stands out as he's always willing to accommodate a new request without jeopardizing other essays and delivering top-quality work on time. To conclude, I loved his desire to explain and justify any edit to allow me to truly understand all the suggestions provided. Thank you, Sam.
- Antonio